Home » About
About
I am Sarah Vaughter and this is my main site. My sites attract 100,000 unique visitors/month. OwnDoc means: "Be your own doctor" – Hippocrates' advice! I am a Lymie, Aspie, medical investigative journalist and dermaneedling expert.  I wrote the free, non-commercial eBook "When ALS is Lyme", on a link between Lyme and ALS. My own articles on this site reflect my "special interests" (a peculiarity of having Asperger's syndrome) My test results can be downloaded here. My Myers-Briggs personality type is INTJ.
Female INTJ's are extremely rare (< 1%) and aspies are only 0.2% of the population but we have another female INTJ aspie in our network of sites: Jessika Endsley writes for us on OwnShrink.com. Jessika studies Psychology.
I have a history of chronic Lyme neuroborreliosis and my husband is a survivor of a life-threatening systemic Candidiasis infection of his kidneys, which started as a genital infection but worked its way up via the bladder. Our website is the result of many years of researching our own health- and skin issues. We wanted to put our obsession for correlating large amounts of scientific data to commercial and humanitarian use. My husband also has Aspergers and that is the reason we have such a successful marriage for all these years!
I am a lifetime supporting member of the Immortality Institute and a principal sponsor of the replication of the famous Baathi rat study, where rats lived twice as long on C60 in Extra virgin olive oil.
My dermaneedling forum is the largest skin inprovement forum online. My scientific literature research and original research on neurospirochetoses as a cause for common neurological syndromes with unknown etiology is the most comprehensive available and has been "Facebook liked" by literally tens of thousands of people, including microbiologists, journalists and medical doctors. I write articles on health and beauty, expose scams, put the spotlight on researchers that need our support and I like to dig up lesser-known truths.
I am no fan of Big Pharma – I consider it a criminal kartel – nor do I support to worldwide legislation they lobbied for, Codex Alimentarius.
Please note that we are not medical doctors and that our opinion is not medical advice.
On this site we sell our own products that help with health and beauty issues. The products sold have a thorough scientific basis and we provide the details. Most of our customers are of a scientific mindset and are not afraid to take certain health and beauty problems into their own hands.
A public notice on rudeness (mine..)
People on the autistic spectrum are often perceived as rude, while they do not intend to be so. The cause of the "rudeness" is the total inability of the autistic brain to adhere to even the most basic social conventions, the ones normal people are born with. Where other vendors will be apologetical and use friendly down-escalating phrases to address customer support issues, I am matter-of-factly, like a machine. I will tell you the facts without any niceties or politeness, and to you it may seem that I am arrogant, dismissive and rude but the thing is: You can't have it all. We have exactly what you really need, those products are value-for-money, I'll give you solid advice and provide honest and prompt custumer support – but not always in a friendly manner! It's not that I mean it badly, it simply is that I often really don't manage to appear friendly. You can read more about how people with Asperger's find it impossible to be "nice" here. My sincere apologies in advance if I hurt your feelings. For all practical purposes, assume you're dealing with a robot when emailing with me, then you can't get disappointed. Whenever you get a "nice" email from me, it means I have extraordinary effort on it being that way (and I often still manage to offend..). In times of stress (and it doesn't take much for that), my emails may upset you.
Business address

Vaughter Wellness
Zürcherstrasse 161
CH-8010 Zürich
Switzerland
Dispatch Center
Our three dispatch centers are in the EU (Spain and Czech Republic), so there are no customs delays to EU countries.
In 2010 we re-incorporated in the Seychelles under business nr. 75594.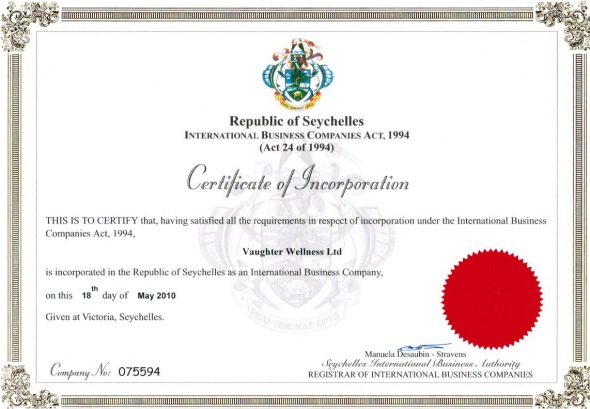 Our dispatch coordinator is martina@owndoc.com
Email sent to her is read every day, also in case of holiday or illness. She handles all product warranty issues, gives tracking info, sends out PayPal invoices etc. We are not reachable by phone any more because we were getting many phonecalls from people looking for medical advice, which we are not licensed to dispense. Sarah or Martina do not give product advice anymore either because nearly all questions are answered on our main sales page, in the extended product descriptions in our store, in our instructions downloadable from our support page, in our articles or on our forum.