Home » Derminator® blog
Derminator® blog
Here we journal the ongoing development of our exciting new digital dermaneedling device, the Derminator®. The Derminator will be for sale in our store here. The benefits of the Derminator are listed here.  There is nothing like this machine on the market. Digitally set needling depth. Automatic calculation of optimal prick density & needling time. Very powerful but minimal pain and bleeding and the only safe machine with no microtearing due to the extremely short duty-cycle of the needles, due to the fast accelerating motor. Invented, designed, prototyped, programmed, built and tested in Europe. All major components, including the motor, the power supply and the software, not made in China :-) Patent pending in the US and Europe and trademarked worldwide. For sale on Sep. 30.

September 14, 2014
We had for a short time the announcement that we'd raise the price of the Derminator from $199 to $299 after the first 300 would have been sold. The reason was that currently, the device is soldered and assembled by its inventor (the guy in the videos), who owns his own consultancy business and is very highly paid and doen not want to do this kind of work for long either. We simply could not yet find people that can live up to our high standards and we rule out outsourcing. However, we do not want to disappoint the many home-needlers who have been waiting for this device either. $299 would be too much for most of them. We expect to sell 1000 of these devices before the Christmas. So, after much deliberation, we decided to reverse our decision and will keep selling this machine for $199, at least the first 1000. The big winners are the clinics – they'll get a $2000 machine for less than half the price of a single treatment.. We've actually been begged by a competitor not to do this, because it would decimate their market. So perhaps it's not such a bad idea after all :-) Meanwhile, we've scheduled an interview with a promising new employee for the "assembly line".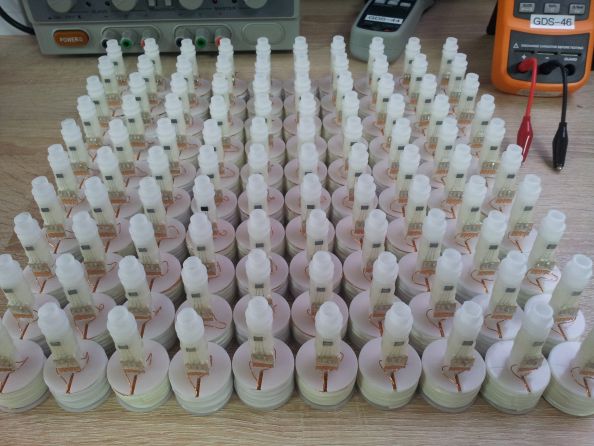 Derminator motor with needle-depth sensor.
September 9, 2014
Needling stretchmarks with a single needle cartridge on medium speed with the Derminator®.
Most of the needling done with 1 mm depth. The pinpoint bleeding was done with 1.5 mm.
The first tests on someone other than our engineer exceeded all expectations. The needling is near-painless. It hurts more after needling than during! (The skin "glows" after needling). The reason for this is that the needles move so fast that there is no time for them to be pushed sideways when they're inside the skin. Relatively slow needle entry/exit and sideways tearing is what causes most of the pain associated with conventional needling (manual rolling/stamping as well as using those atrocious Chinese-made "buzzers" like the My-M, DermaPen etc.).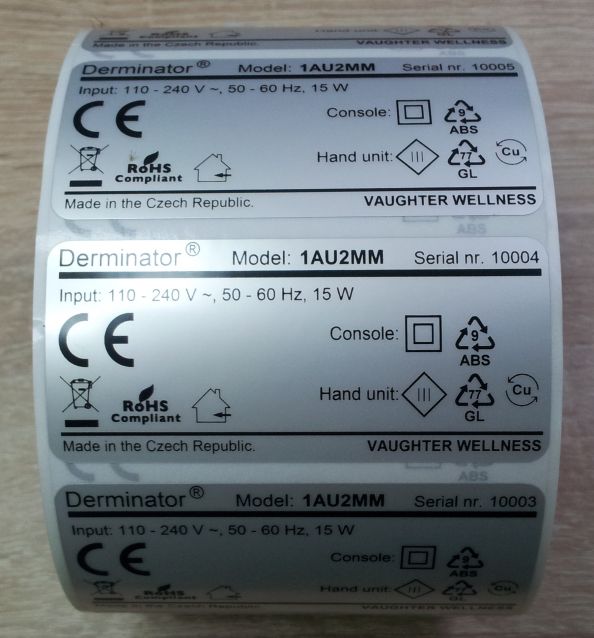 September 5, 2014
We received the injection molded hand unit cases and they are great, so we'll soon be able to start building Derminators and get them to our eager customers! Here is the first video of a fully working machine (we may still tweak the firmware though):
Note how the fast (usually used) setting is a lot less noisy than the other settings. The microphone was very close to the device as well. A powerful motor is essential to avoid microtearing, see for a demonstration of microtearing with competing devices http://derminator.owndoc.com.  The Derminator® will be for sale in limited quantities at the end of this month at http://shop.owndoc.com/product-list.php?Derminator-pg1-cid61.html. We have many hundreds of home-needling individuals and clinics on the notification list and those will all be emailed at the same time. We may temporarily sell out before everyone had a chance to purchase one, but we'll keep producing more. Note that this is a medical-grade, clinic-quality device we could easily sell for $2000,- to clinics only, but we decided to sell it it anyone for $200,-. There are no catches (except that it's an ex. VAT price, for European customers). We will of course take the dermaneedling world by storm with this sophisticated (digitally set needling depth!) machine. There will come a time that all dermaneedling will be done with devices like these and dermarollers, dermastamps and single needles will be a thing of the past. You can buy a Derminator, use it for a couple of years and then resell it. We've let it run for three nights, non-stop, max. speed and depth without any problems. We're still working on our warranty/after-warranty service policy as well as the user manual.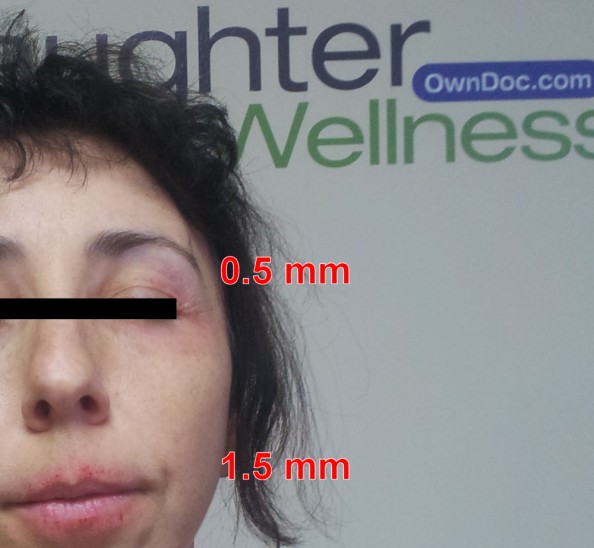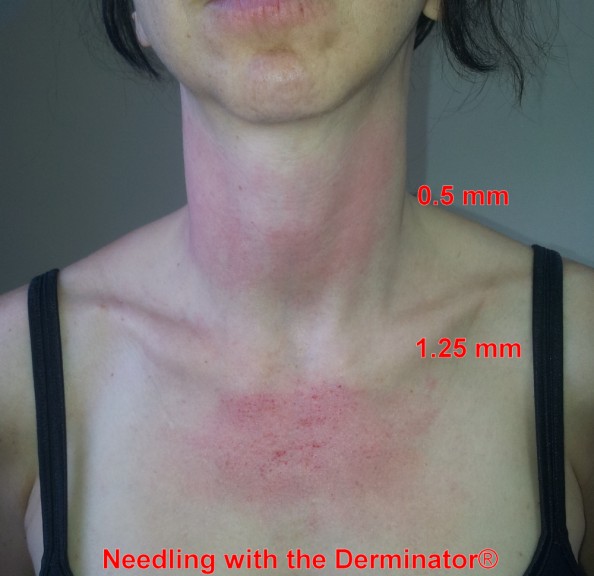 September 1, 2014
We encourage our future Derminator customers to replicate our experiment to prove to the dermaneedling world that we've always been correct with our warning that all current electric dermaneedling devices cause severe microtearing. We discovered this, and we invented the only machine that does not cause microtearing, using an extremely fast accellerating, super-powerful motor with microprocessor and sensor. Currently projected launch date: September 30. Click for microtearing enlargement.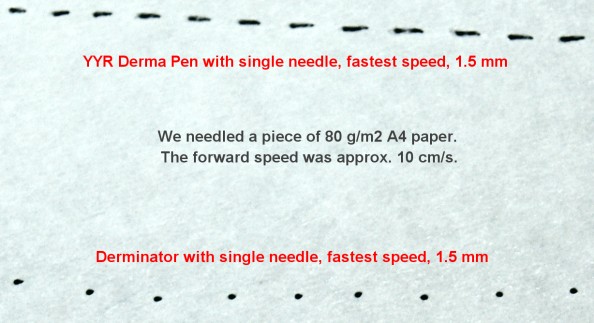 August 30, 2014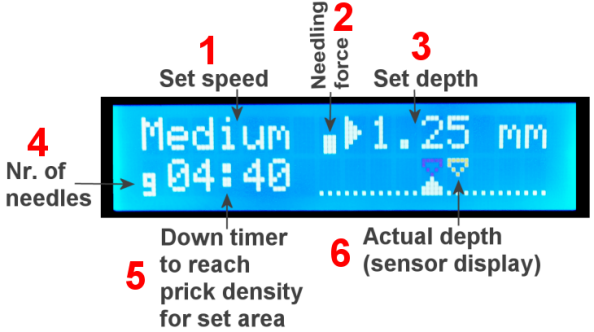 1. Operating mode. Can be Slow, Medium, Fast or Timer, where you can specify a skin area size and the machine calculates how much time should that area be needled with the current speed setting. When you change the needling speed, the remaining time changes as well.
2. Power indicator. Shows how hard the machine needs to push the needles to reach the set needling depth. Good indicator of how thick the skin or scar tissue is.
3. Depth setting. From 0 to 2.25 mm in steps of 0.25 mm.
4. Number of needles in the current needle cartridge. 1 or 9. Important to verify that the timer mode's calculations are using the correct needle cartridge, and also to calibrate the sensor properly to the cartridge geometry.
5. Countdown timer for the Timer wizard. This is an incredibly useful feature! The device allows you to specify the area in inch² or cm² of a skin patch by specifying width and length, and it then calculates, using 250 pricks/cm² or 1500 pricks/in², how long you should needle that patch in order to achieve that prick density, which is the optimum from the medical literature. The device will stop when the timer has reached zero. All the user has to do is move the device with circular motions equally over the entire patch a few times during that time period.
6. Needling depth indicator. The bottom triangle indicates the set depth in increments of 0.25 mm. The top triangle shows the actual needling depth, or, more accurately, how far the needles are penetrating out of the cartridge. This indicator serves as a verification that the device is working properly and that the correct needle depth is indeed attained. It also reminds the user to maintain proper pressure on the skin, because when you lift the device too much from the skin, the depth indicator will briefly show a deeper depth.
August 19, 2014
We won't be able to make our self-imposed deadline of starting sales in late August because it will even take until mid September for the cases of the hand units to arrive. We have 400 people and clinics waiting on our notification list. Please do not ask us "When it will be ready?" We will let you know as soon as it's ready. As we explained and demonstrated, there are no skin-safe electric dermaneedling devices available. They all cause microtearing. So you will have to wait for the Derminator. It will be worth it – much worse devices sell for over 1000 dollars to clinicians only. This device, when placed in the market "properly", would have to cost at least two thousand dollars and be available to doctors only. This is cutting-edge microprocessor-controlled dermaneedling technology with a very powerful motor. You'll have the best of the best "skin clinic" technology in your home. Worth waiting! Just about every major clinic in the US is already on our mailing list and they can't believe the price! Did we forget a zero? We'll sell to anyone with 199 dollars to spare. There still is quite some work on the firmware and we have to write the user manual. And the single-needle cartridges are on their way.

August 2, 2014
Here you can see how cheap Chinese "buzzers" tear the skin:

August 1, 2014
The hand unit's case prototype has arrived. So now we can finally reveal how the machine looks! This is exactly how the Derminator® will be sold to US customers (of course we'll have machines with other plugs available as well):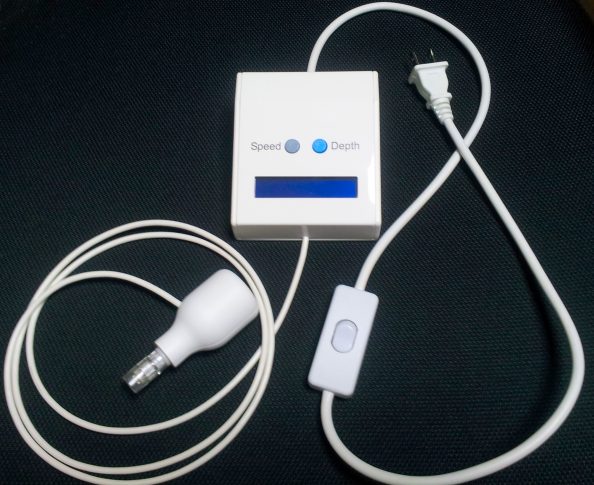 The device has more complex features than just "Speed" and "Depth" – those buttons also select other options and functions.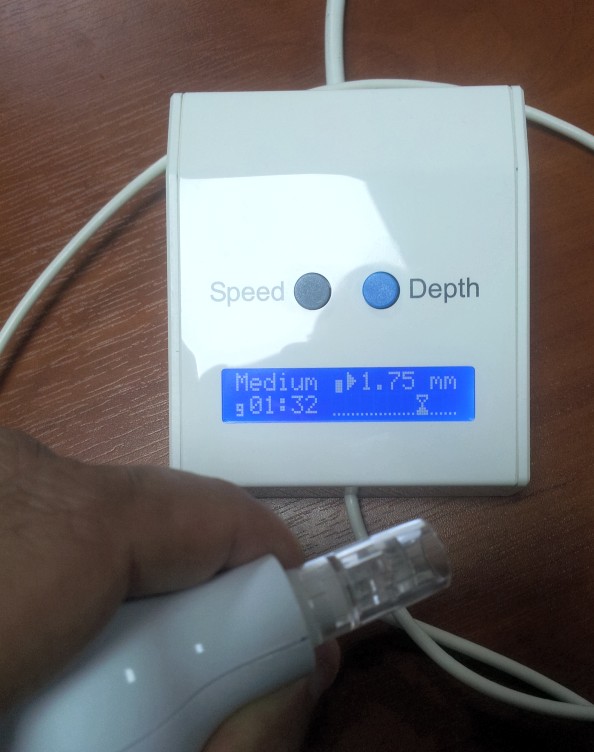 Meanwhile, please visit our Derminator specifications & info page where, near the end of the page, we show how other, much weaker machines cause terrible skin tearing. This microtearing (well, it's hardly "micro" when the rips are about 2 mm long..) is exactly why we developed the Derminator®.
July 10, 2014
Today we started production of the main unit. On the table are the PCB assemblies. We're very proud of our new lab in the Czech Republic. Instead of merely being a trader, we've become inventors and producers as well. The photos below show only a small corner of the lab – it's about 1000 sq. ft. / 100 sq. m and contains an entire mechanical & CNC workshop as well as 3D printer, laser cutter etc. The building has room for 30 employees – plenty of space to expand. We promised to show a microscope vid of the atrocious microtearing of the "Dermapen" but the MiniVID camera that arrived yesterday does not have a 64-bit Windows 7 driver so we have to buy another camera.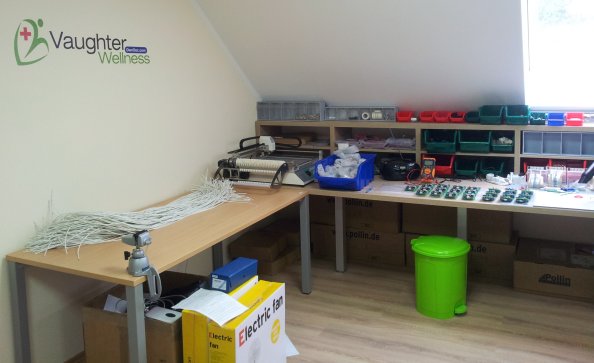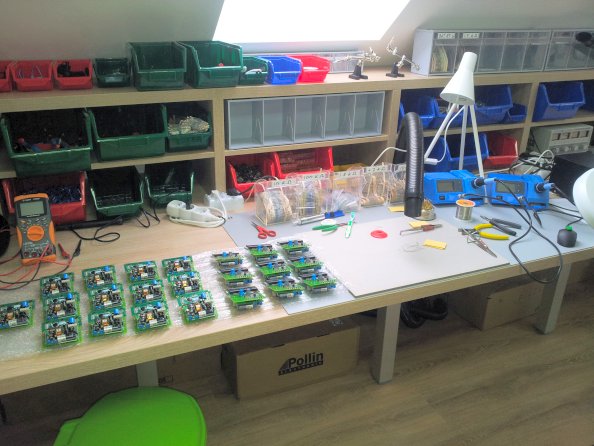 June 24, 2014
We just received the first batch of 5000 needle cartridges from the factory. We did some random sampling and the quality is excellent. We ordered another 5000. The factory is working on 1-needle cartridges now.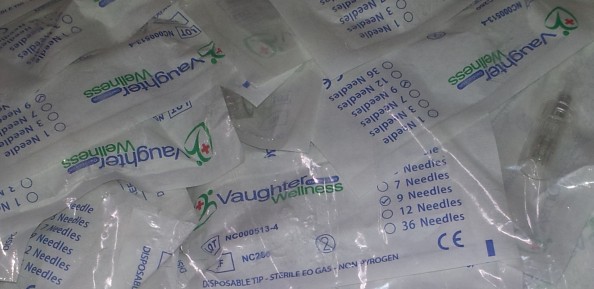 May 24, 2014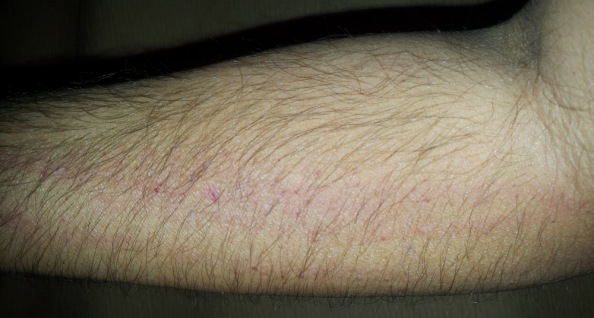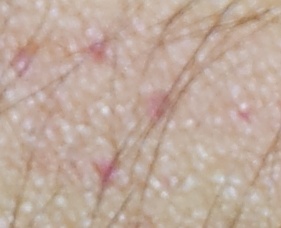 This arm belongs to Frank, the inventor of our Derminator. He works in our company's new building where he set up our new electronics lab. In this picture, made today, he has just needled his arm on the medium speed setting at 2 mm needle depth. It was a test to see whether the current prototype is strong enough to penetrate the full 2 mm. The penetration depth was measured by the device's sensor and the power required was below the device's maximum power output (needling force is auto-adjusted, depending on how much force is actually required to penetrate to the desired depth – high tech!) "Scratching" was tested by moving the device very fast over the arm, which caused no ill effects. Our engineer is around 50 years old and some of the (red) splotches on the arm are just part of his normal skin. The magnification shows faint pinpoint bleeding that hasn't even managed to reach the skin's surface because the channels closed so rapidly. Exactly as expected for a device that does penetrate to the full 2 mm but has an extremely short needle-down time and hence does not tear the capillaries due to the microtearing that's unavoidable with simpler devices. Our inventor (of whom we are very proud – not in the least because he keeps needling himself everywhere) says that the needling itself doesn't hurt much, but afterwards the arm has a mildly painful "glow" like it has been rubbed with snow, only less severe. Certainly much less painful to what would need numbing cream.
May 15, 2014
This is about our choice of needle cartridge and its modified design to suit our machine. We finally received a perfect prototype. We tested many commercially available needle cartridges in the hope that we could find one that would meet our quality standards: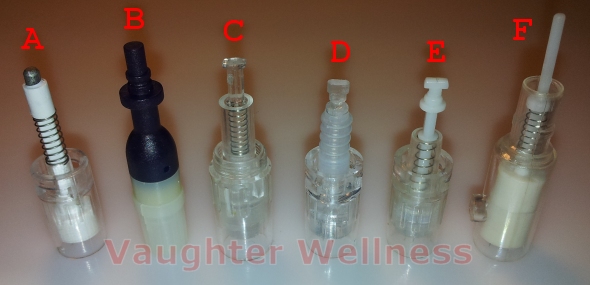 However, none of the available needle cartridges were both perfect and useable with our innovative motor. Cartridge A, B and F can not be used with our motor. Apart from that, their complex design would mean a very expensive cartridge. And cartridge F has bent needles straight from the packaging. Cartridge C can easily get stuck due to sloppy injection molding or a bad design. Cartridge D has a "blood skirt" that doubles as a return spring. The latter function works very badly, making that type of cartridge useless because it causes severe skin dragging and microtearing. That cartridge would need a spring underneath the soft plastic shield to make it useable. Cartridge E has wonderful, smooth mechanics but the entire needle base can detach and the needles themselves are stuck in a soft plastic base. The needles are therefore not straight (they seem to be put there individually, rather haphazzardly and not evenly spaced, by hand..). On top of that, many of the needles have curved tips, making cartridge E a criminally insane design. We use a microscope to check needle quality and you would be amazed at the incredible garbage sold today! We will buy a camera to attach to our microscope so that we can show the horror. The big danger is that dermaneedling may get a bad name due to those atrocious Chinese needles.
The solution came when we found another needle cartridge vendor, selling cartridges similar to cartridge D and E. We ordered 500 pcs of every cartridge they carried, to be able to assess whether they were able to produce good quality not just with a couple of samples. The good news was that their needle quality and everything to do with the needles was impeccable, but the bad new was that there were a few things sub-optimal with the injection molding, plus that the cartridge's dimensions needed to be slightly adapted to our requirements. After quite some anxious back-and-forth with modified molds and samples, we received the final sample today: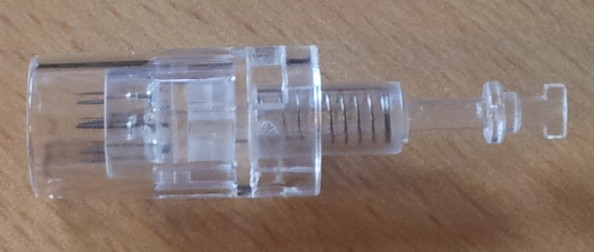 We were happy with its quality and gave the production order for 5000 of them. When received, we will take random samples and if the quality is consistently good then we'll place a much larger order that we will of course also randomly sample.
May 13, 2014
Our trademark attorneys told us that DERMINATOR has been successfully registered in the following countries and areas, and that the opposition period has expired: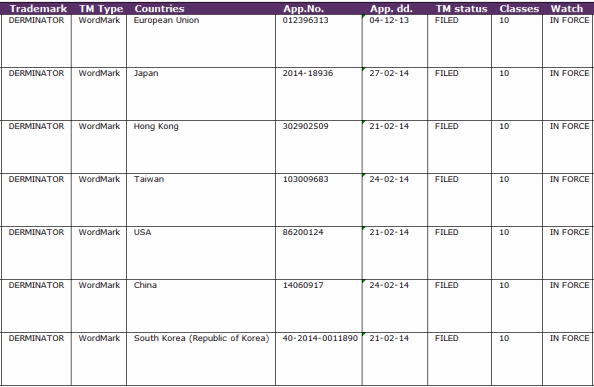 Our needle cartridge manufacturer told us they'll have no problem making two more desired modifications to the cartridge and they will send the final samples to us soon. Today we have prototyped our likely final motor body and when the final needle cartridge samples have arrived and been tested, a 3D design file of the motor housing will be sent to our injection molding partners in the UK (Protolabs.co.uk). From us no Turkish-made device such as with the hopelessly inferior DermaDart , based on the fraudulently defective DermaJet sold to us by Hasan Ercan.
May 9, 2014
DHL delivered the latest needle cartridge prototype. All three problems we had with the previous one were solved, but a new one has emerged. We informed the manufacturer so that they can adjust their injection molds. We're awaiting their response and hope to receive another prototype soon. We'll post a picture of the final needle cartridge as soon as the manufacturer perfected their molds.
February 25, 2014
The Derminator's hardware, actuator, software, case, hand unit and printed circuit board (PCB) have all been designed by our own European consultants and employees. The PCB is produced by the Belgian Eurocircuits.com who operate one of the world's top PCB manufacturing plants in Hungary. This is the final prototype before the final production of 1000 pcs. It's a 4-layer PCB with components on both sides. All components are supplied by the American company Mouser.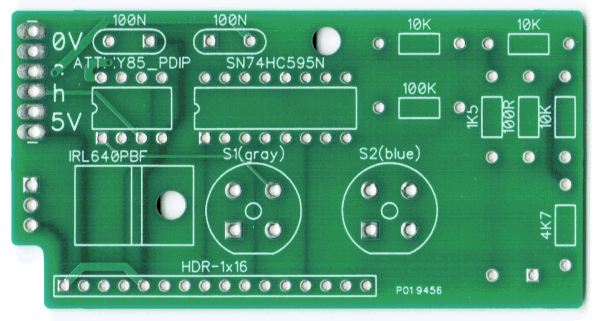 January 15, 2014
This is the Derminator's power supply module. It is made in the USA by Astrodyne, it's the Astrodyne OFM-0101 5V/2A. It's a very modern Switched Power Supply, meaning it uses very little energy, is extremely stable and reliable, does not get hot and does not hum. It supplies a very safe 5 Volt. It is protected against over-voltage, over-current, excessive temperature and short-circuiting. The extremely low voltage of 5 V in the handset means the device complies with the Low Voltage Directive regarding medical use. The PSU is certified for use in medical devices due to its double-insulated primary and secondary circuits.