Home » Products
Products
We are always on the lookout for a different perspective on solving health & beauty issues. Below is a list of the products we have for sale.
Dermarolling: Improving (acne) scars, wrinkles and stretchmarks

Dermarollers and microneedling products (cheap worldwide shipping)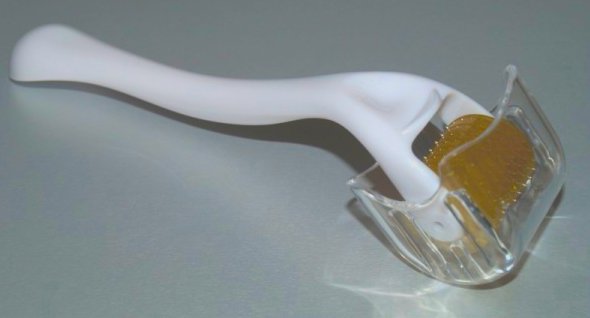 We did a dermaroller test. We sell the current test winner under our own name in our dermaroller store. Dermaneedling is not just about what length needles you use but also about what kind of skin-regeneration cream or ointment you use with it. We found an ointment with the ingredients for optimal collagen formation: It has vitamin D2 and Retinoic Acetate (vitamin A) but most importantly, it is not based on (Stearyl) alcohol. We have 20 grams / 0.7 oz. of 100% pure vitamin C crystals to make a skin serum, and specially made single needles for the individual treatment of acne scars, scars (except keloids) wrinkles or stretchmarks. We are the only company selling a special single needle to intensively treat individual scars and stretch marks.
Against fungal infections

Against Candida albicans infection
Lufenuron (cheap worldwide shipping)
Lufenuron kills Candia albicans by targeting Chitin, the building block that gives strength to Candida's cell wall. Our immune system uses the enzyme Chitinase for that. Lufenuron is a very strong Chitin-inhibitor. Lufenuron is liver-safe and our Lufenuron passed the EU requirements for veterinary medicine – certified by a major US/European laboratory. The test report is here.
Against nail fungus and other fungal skin infections such as ringworm, jock itch and athlete's foot
Pythium oligandrum (cheap worldwide shipping)
Pythium oligandrum is a "cannibal fungus", it is a mycoparasite, a fungus that eats other fungi. You basically "infect" your fungal infection with the spores of this fungus. It will then eat all the other fungi it encounters, and subsequently starve to death when that food supply runs out. So it is 100% natural and totally harmless for humans. You can read more about it here: Pythium oligandrum.
Life extension (90% longer lifespan in Wistar rats)
A recent rat study found that "Buckyballs" in olive oil prolonged the lifespan of rats with a record-breaking 90%, making C60 dissolved in extra virgin olive oil the world's most effective anti-aging product – for rats at least. We have a separate site dedicated to scientific research information on this extremely exiting new product: http://c60antiaging.com. C60-oil has a proven liver protective effect and a proven neuro-restorative effect. It also has been proven to prevent the formation of tumors and to be anti-viral. Old mice in a separate study regained the neurologic capacity of young mice. We use the same C60 manufacturer, extra virgin olive oil and the identical preparation procedures described in the rat study.