Home
support
(Our product instructions and support desk info are below the following warning:)
540-"NEEDLE" TITANIUM ROLLER ALERT!
Some dermaroller vendors are aggressively marketing a roller that causes permanent skin damage because it has knives that slice the skin open. 540 real needles would be extremely expensive, so the Chinese manufacturer cut costs and simply stamped out rings of knives. One of our customers sent us a picture of such damage: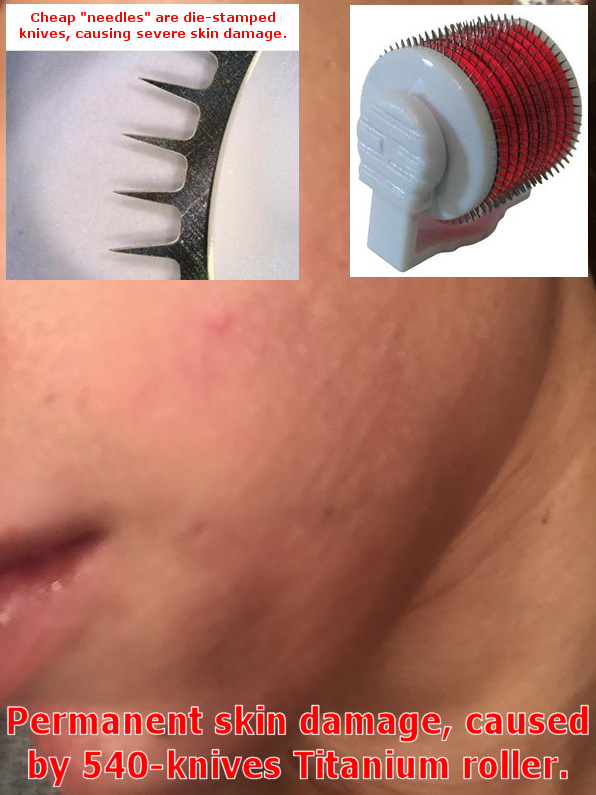 Unethical sites selling these rollers: dermarollerinfo.com, royaldermaroller.com, flawlessbeautyandskin.com, aspenclinique.com, skincarestore.com.au as well as vendors on Amazon and eBay. Many other sites sell this fraudulent product as well, all of them operating from SE Asia. It is the only roller that is very heavily marketed on sites with bad spelling and claims of "500% skin improvement" etc.

DOWNLOAD PRODUCT INSTRUCTIONS:
Here you can download the latest revision of our product instructions:
http://owndoc.support/knowledgebase.php?category=4
Contact us:
Our support ticket system is at http://owndoc.support
Please read the relevant user instructions before opening a support ticket.
Please do not email us directly because if your ISP has blacklisted our IP-address by accident for ex., you will not receive our answer. It's also much harder for us to assist you most effectively. Direct emails are usually ignored unless the issue is very urgent.
Our support page also has a "knowledgebase" (FAQ). When you found the answer to your question before any of us answered you, please close your support ticket.
For legal reasons, we can not give medical advice.
Our dermaneedling forum:
Nearly all conceivable dermaneedling questions have been answered on our forum, which has been set to read-only at the moment. Please use its search function to find one of the several thousand answers Sarah has given to people looking for skin treatment advice.
http://www.owndoc.community/index.php?board=4.0
Important information on the suction method:
http://www.owndoc.community/index.php?topic=302.0
How to read our instruction PDF's:
Almost all computers have Adobe PDF Reader installed. If not, you can download it here:
Our sales pages with product info:
Lufenuron:
buylufenuron.com
Derminator:
derminator.com
Dermarolling:
dermaroller.owndoc.com
Pythium oligandrum:
pythium-oligandrum.owndoc.com
C60 in olive oil:
c60antiaging.com
Order tracking:
Orders are shipped the same or the next working day by priority air mail. The availability of tracking depends on order total and destination country. Orders below $100 (or equivalent currency) are sent untracked, except when you paid $7 for shipping because our store decided your address is too "risky" to ship untracked to (apartments, P.O. boxes, certain countries etc. are always sent tracked shipments). For tracking before the package has arrived in your country, use http://track-trace.com/post. For tracking when the package has reached your country, use your postal service's own tracking service. In the US this is https://tools.usps.com/go/TrackConfirmAction!input.action. The cooperative mail services' global tracking system: http://globaltracktrace.ptc.post/gtt.web/
The postal services of Canada, the UK, the Netherlands and Australia do not offer online tracking of International Registered Mail, Australia Post can give more information by phone when you give them our tracking number. USPS tracking status "Origin Post is Preparing Shipment" does not mean what it says. Four days after we emailed you that we shipped your order, this tracking status means that USPS hasn't scanned the shipment yet. In January-February 2015, USPS delayed many cargo loads of packages from half the European subcontinent for up to ten weeks. Be advised that this can happen again and that our T&C state that US customers have to wait until 90 days have passed before filing a claim, when sent a tracked shipment. But currently there are no such delays.
Please file a support ticket at //owndoc.com/support/ if you do not receive your order in time, so that we can either issue you a refund or send your order again. We always send an order confirmation email as soon as your order was made and we also send you a dispatch confirmation email when we have mailed your order. If you do not receive the first email within a short time and the second one within a couple of days, please raise a support ticket.

Warranty issues:
It is very important to us that you are a satisfied customer. If there is anything we can help you with, please let us know via our support ticket system.