Home
» dermarolling
» how-hasan-ercan-scammed-owndoc-for-50000
How Hasan Ercan scammed OwnDoc for $50,000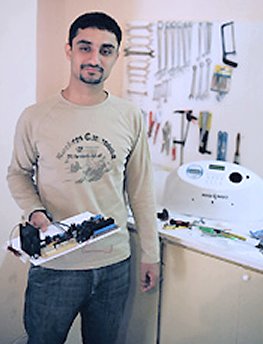 Being part of the Adana incubator gives new businesses more credibility, says Ercan: "People look at you differently. They trust you, they think you're safe." Source: World Bank. Fair Use.
The world is a dangerous place, and that includes eCommerce. In 2012, we purchased 270 DermaJet needling devices from Hasan Ercan of ALA-Tekno group in Adana, Turkey. This criminal also does business under the names "ALA Kozmetik" and "Teknomedikal". Hasan Ercan, using the alias "minelaser" invoiced us through his front company ALA Kozmetik. Hasan runs "Güzellik Dünyas?" (Beauty World), a small beauty shop in Adana and he is the itl. sales manager of "Adana Metal Sanayi Sitesi Seyhan", where he also designs medical equipment for that company, with website Teknomedikal.com.tr. His father, Dr. Münevver-?eyhmus Ercan runs Mine Cosmetic Laser Center and had read our article, published in 2011 on why ordinary electric dermaneedling devices are too weak or cause microtearing. We offered a solution: A powerful electromagnet instead of an ordinary motor. He asked his tinkering son to make such a needling device. Hasan set to work and implemented our suggestion, using a solenoid. The DermaJet was born.
We didn't know all that at the time, but when their DermaJet was ready, Hasan spammed me a link to http://teknomedikal.com.tr, where the DermaJet is still sold to unsuspecting Turkish customers: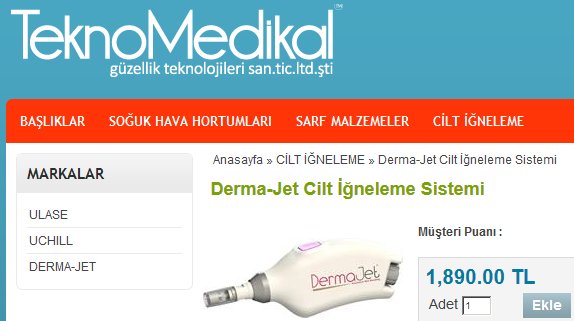 1890 Turkish Lira is 822 dollars. We had done due diligence and tested a sample DermaJet. It looked very professional and worked flawlessly. We were excited to finally be able to offer our customers a skin-safe electric needling device that actually worked. Ercan told us that the device was rock-solid, very popular and that he had sold thousands already, worldwide.  Eager to start selling this device of our dreams, we ordered 270 DermaJets for $50000,-. We sold the DermaJet for $250,- and when we started to see a worryingly high return rate for broken devices, we charged $299,- for a few days to compensate for the high return rate. But then we decided to pull the plug on the device and stop selling it entirely. The DermaJet turned out to be of fundamentally flawed construction and it had many modes of failure, which we'll discuss further in this article. We ended up refunding dozens of custumers, paying up to $70 for return shipping so we could do post-mortems and provide this data to Teknomedikal and sending up to sometimes three replacements to customers who did not want a refund. And of course the remaining devices can never be sold. More than half of all DermaJets sold broke quickly. Our damage: 50 thousand dollars in direct financial damage but the indirect damage is far greater. Reputation-wise, it is hard to overcome this debacle. And of course we lost two years of sales, because there still is no device of acceptable quality on the market. UPDATE: Months after writing this article, nearly 100% of DermaJets have failed. Our damage now exceeds $75000.
Pangaea/Elliot Isaacs bought the rights
Hasan Ercan, immediately after he received our money and granted us worldwide exclusive sales rights, violated our contract and secretly transfered all rights to the manufacture and sales of the DermaJet to a competitor of ours: Elliot Isaacs of Pangaea Laboratories in the UK, the company behind the Medik8 brand. Neither Ercan nor Elliot Isaacs were willing to compensate us, so we contacted a specialized UK solicitor who told us that according to UK law, if it was not agreed otherwise, Pangaea Labs would also have taken over all DermaJet service liabilities. Elliot Isaacs was unwilling to accept responsibility, neither was he willing to disclose the content of his contract with Hasan Ercan.
Pangaea threatened to sue us
Elliot Isaacs' solicitor, Spencer Keen, threatened us on behalf of Pangaea Ltd. that if we went public with this case, they reserved the right to sue us, including confiscation of our personal assets to pay for any claims by Isaacs' Pangaea. Isaacs, who owns the Medik8 dermaneedling-related brand as well as other beauty brands snatched the DermaJet sales from us (we had an exclusive sales license with Ercan), but in the end he ended up Ercan's victim as well, ending up with the rights to a flawed design.
Hasan Ercan said he will shut us down
We emailed more than 100 times with Hasan Ercan to get the matter resolved. After months of fruitless back-and-forth, we started to lose patience and warned him that we would expose him on our site, since we had no other choice. If we would not explain what went wrong, our customers would assume we had scammed them, selling them useless garbage for hundreds of dollars a piece. We needed to explain why we took the DermaJet off the market, why it was a dud after we had praised it so much. Our credibility, our reputation was at stake. Hasan replied: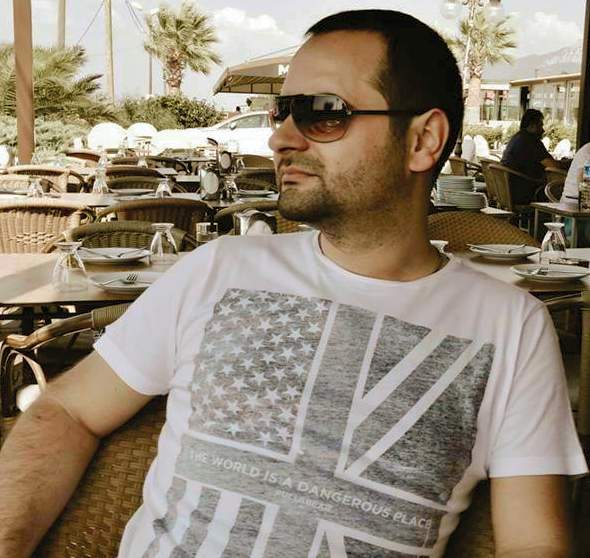 Hasan Ercan (ALA Kozmetik / Teknomedikal / Güzellik Dünyas?, Adana, Turkey)
Source: Facebook. Fair Use. Note the text on the scammer's shirt.
The world is indeed a dangerous place, due to gangsters like Ercan. We got scammed out of a small fortune, our customers got inconvenienced (but refunded) and if we would do anything about it, we could be "destroyed" by Teknomedikal's Hasan Ercan or sued into poverty by Pangaea's Elliot Isaacs.
Teknomedikal's products are of inferior quality
This picture illustrates one of the many design flaws in the DermaJet: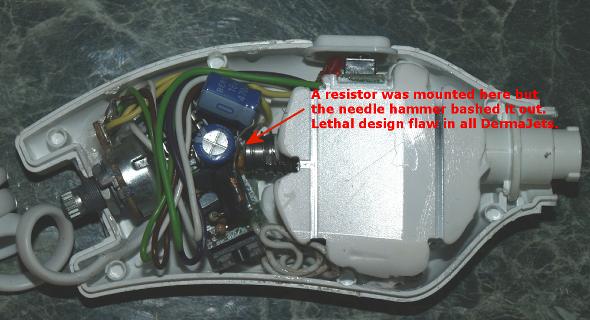 About 30% of DermaJets work only for one second. As soon as you turn them on, the needle hammer slams against a resistor on the circuit board, and the resistor is shattered or ripped out of the PCB entirely. The device immediately ceases all operation - permanently. Another problem is broken switches: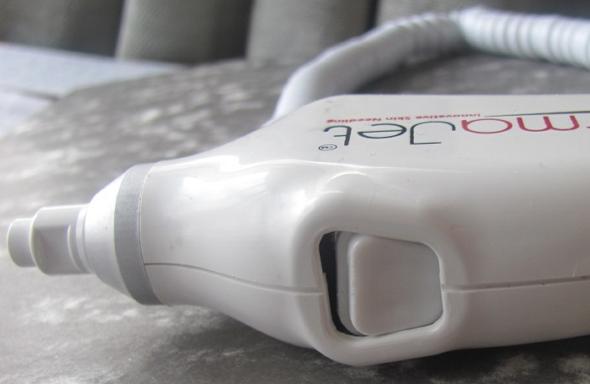 Sometimes the magnet breaks out of its plastic holder, usually in pieces: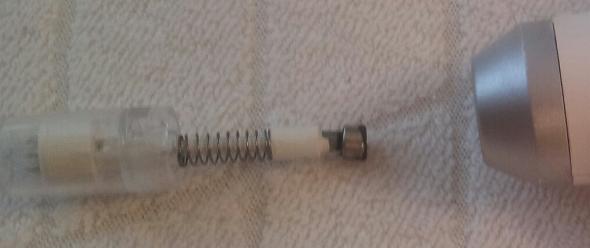 And sometimes the magnet shatters into a fine black powder, or the entire plastic piece that contains the magnet breaks off: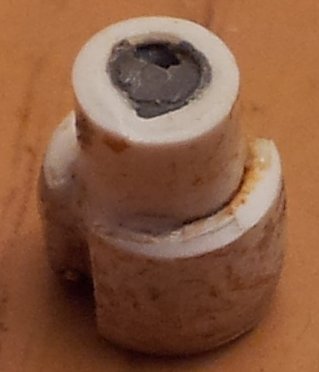 Pangaea: "DermaJet not fundamentally flawed"
This is what Spencer Keen, Pangaea's solicitor wrote: "If you publish any defamatory comments about the Dermajet device at any time Pangaea will take immediate steps to secure an injunction and will seek damages and costs from you in your personal capacity.  Pangaea denies the Dermajet is a fundamentally flawed product as you allege.  This is still Pangaea's position and will continue to be so."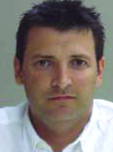 Source: dermacaredirect interview with Elliot Isaacs. Fair Use.
There are dozens more ways a DermaJet can give up the ghost. We found damaged insulation on (low voltage) wires, we got reports of machines that stopped working after overheating, we found extremely shoddy workmanship with everything soldered and glued together in a messy mass and even too high voltages in places regulation says there shouldn't be. US plugs were improvised by gluing a US adapter onto European plugs and the glue prevented an electrical connection, so many US devices were dead on arrival for that reason also. Customers complained about scratched, dirty devices. We were so ashamed. We kept refunding and re-sending, because when the device worked, it worked and many customers were prepared to go through a few devices before ending up with one that would work more than a few seconds or minutes. But we ended up with a massive failure rate. Only endless replacing made those customers happy. We sold 120 devices and our profit on those was used to pay for return postage and the postage for replacements. The remaining devices were used to replace faulty ones, with some still in reserve. Our direct damage: 75,000 dollars. The damage to our reputation: Incalculable.
The DermaJet has been rebranded to "DermaDart" and is sold by Pangaea's Medik8. We wrote a DermaDart review of their false sales claims.
What when our replacement DermaJets run out?
We're currently developing our own, sophisticated digital dermaneedling device, the Derminator. When we run out of replacement DermaJets, we will either refund those customers or send those customers our own device free of charge. (Customers are also refunded whern they prefer a refund instead of a replacement).
Pangaea likely liable, Ercan guilty of fraud
We have been advised by our solicitor Susan Singleton that most likely, Pangaea Laboratories is fully liable for our damages, but unless we sue them, we will not be able to prove that they did not negotiate a non-liability clause with Teknomedikal / Hasan Ercan. We reserve the right to sue Elliot Isaacs and Pangaea Laboratories, just like their solicitor Spencer Keen threatened that they would sue us for "defamation" as soon as we would tell the truth about the DermaJet, a truth we can back up with dozens of customer emails and actual returns of faulty devices. We are of the opinion and we think to have evidence that Pangaea pays for fake positive reviews of their Medik8 brand. We find this company highly unethical. Litigation in the UK is a costly, last-resort endeavor, with the richest party often walking away with the victory.  We prefer to learn from the experience and move on, developing our own dermaneedling device. Pangaea sells dermaneedling products under the Medik8 brand, and we find them poor value. Medik8's positive reviews are published on sites that publish positive reviews for money.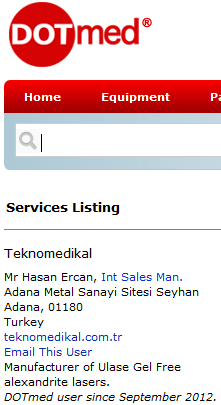 Hasan Ercan of Ala Kozmetik / Teknomedikal is definitely guilty of fraud, but he laughed in our face when we said we might sue him. Such lawsuits take five to seven years in Turkey, with ten years being no exception. And Teknomedikal will be bankrupt by then, with the garbage they produce. An alternative would be getting a European judgment enforced in Turkey. We will consider doing that as soon as Ercan makes good on his threat of "putting us out of business". We think the best we can do at the moment is to expose them here, as a warning for anyone doing business with them and as a public apology and explanation to our customers. It is possible that Pangaea will try to get a court to prevent the dissemination of the information in this article. In that case, we will obtain a search order to seek disclosure of the contract they have with Teknomedikal, we will obtain an asset freeze of Pangaea's assets for 1 million dollars and will sue them for material as well as immaterial damages in case they turn indeed out to be liable.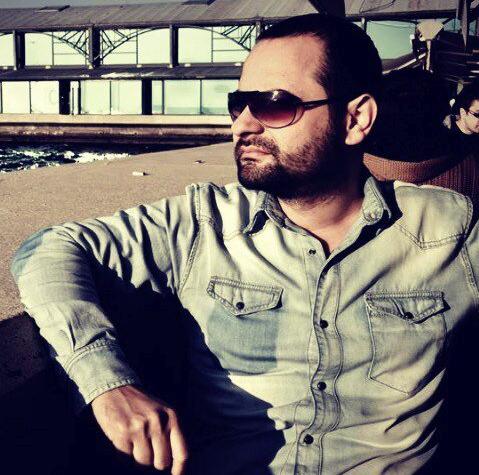 Hasan "I'll put you out of business" Ercan
Source: Twitter. Fair Use.
Certified pure Lufenuron against Candida in animals. Guidelines for large primates: PDF